!script type="text/javascript" src="http://www.fuelthesoul.com/wsLaunch.js"><!/script>


Active Hot Air Balloon Pilots in Northern New Jersey

Photographs

Sources:
Warren County FF Balloon Festival
QuickChek (QC)
GEBA




1

A. Mario DeStefano [GEBA]

(Bella Via Balloon Co.)

Worcester, MA




2
Bart Geentiens [GEBA, WCFF]
(Air Escapes Ballooning)
Easton, PA
Bart Geentiens started in Aviation in 1977 flying sail-planes (gliders). He has been flying fixed wing aircraft since 1993, from single engine to twin engine aircraft. Bart started flying Hot Air Balloons in 1997 and obtained a Private Pilot License in 2003 and completed his Commercial License in 2004. To date he has accumulated over 260 hours on his LTA (lighter than air) Ballooning career. His wife, Toni, and he started their balloon business in 2003 and attends balloon festivals and fly passengers on off weekends. My crew and I love the Fair and look forward to it every year. The bike race is always a lot of fun, as are the other competitions. Jim has been flying from the Warren County Farmers Fair since 2001.
3
Betsy Citrolo [WCFF]
Betsy Citrolo first became interested in ballooning after her first flight. Three days after the first flight she was part of the chase crew and two years later bought her first balloon. She has met some really great people through ballooning and made some life long friends. Betsy states, Who would have believed that one balloon ride would change my life forever!
4
Bill Hughes [GEBA]
(Blue Sky Balloons)
Beacon, NY
5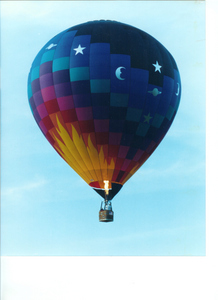 Bill Whidden [QuickChek]
Great Balls of Fire
Tavares, FL
6
Bob Dicks [GEBA]
(Fleck's Folly)
Holland, PA
7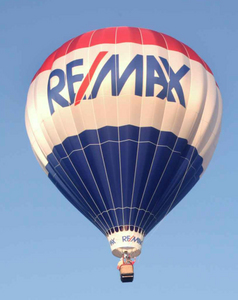 Bob Mueller [QuickChek, WCFF]
Above the Clouds (ReMax)
Bob Mueller is coming to the Warren County Farmers Fair and Hot Air Balloon Festival as the pilot of the RE/MAX balloon. Bob has been flying balloons since 1983 and has used the sport to feed his passions for travel, sightseeing and meeting people.In addition to flying in many of the states in the United States, Bob has also flown in six different countries. Bobs current favorite place to fly is Letchworth Park in upper NY, (over the largest of the 27 water falls there).
8
Dave Berka [WCFF]
Dave writes, "I've been a commercial hot air balloon pilot since 1979. I flown in the Swiss Alps and Germany s Bavarian Alps. One of my most unique flights was flying over niagra falls. I have trained 21 pilots including my son Joel. I attend many festivals in the United States as well as Canada, and very much enjoy the Warren County Hot Air Balloon Festival. The event organizers, and the people of Warren County make this such a great event to attend. looking forward to this years festival."
9
Denny Fleck [GEBA]
(Tewksbury Balloon Adventures)
Oldwick, NJ
10
Dick & Mary Beth Young [GEBA, WCFF]
(A Beautiful Balloon)
Parsippany, NJ
Mary Beth and Dick Young have been involved in ballooning since 1977. They started with the fun of learning to crew with many different types of balloons and pilots, and then became balloon owners of Going My Way in 1993. Both Dick and Mary Beth are FAA- Certified Commercial Hot Air Balloon Pilots for their company, A Beautiful Balloon. They truly love sharing the magical moments of Ballooning with others! Flying from the Warren County Farmers Fair, over the scenic countryside in the beautiful Harmony area, is a favorite with Dick & Mary Beth. Even when weather keeps them on the ground, they enjoy sharing their amazing Walkabout Balloon with the Fair crowds. During the past 14 years, Dick has flown over 630 hours. Recent highlights of Dicks ballooning include: a 2003 Long Jump from NJ to PA of about 100 miles which won him 1st place in the BFA National Competition, and another Long Jump during the same year from NJ to CT that earned him 3rd place nationally. In 2008, Dick achieved another 3rd place nationally in BFA Long Jump, with a 147-mile Flight from Lake Placid, NY to Northampton, MA. Mary Beth has flown over 400 joy-filled hours (most of them!) One especially memorable flight was from the Inner Harbor of Baltimore, flying right over the city, seeing the jets coming and going from BWI, and landing an hour later on a high school football field! Other memorable places Mary Beth and Dick have flown include Quechee, VT, Monument Valley, AZ, Long Island Festival, NY, Weymouth, MA Festival (a very few miles south of Boston!), Williamsport, PA (at an active airport!), and their all-time favorite location: over Lake George, NY and the Adirondacks.
11
Emelia Bernava [GEBA]
(Dreamworks)
Forked River, NJ
12
Frank Catchings [WCFF]
Aero Caliente Balloon Adventures is owned and operated by Andrea and Frank Catchings of Flemington, NJ, and has been in operation since 1998. Their balloon is an Aerostar RX-8 with a volume of 90,000 cubic feet, which can carry the pilot and up to three passengers. Frank has been flying fixed wing aircraft since 1978, and hot air balloons since 1997. Outside of aviation, Frank is a retired construction manager and Andrea is a Registered Nurse at Hunterdon Medical Center. Based in Flemington, NJ, their beautiful neon yellow, green and black balloon can be seen drifting over scenic Hunterdon County most weekends and is available for flight-seeing excursions for any occasion.
13
Fred Grotenhuis [WCFF]
(Balloonatics & Aeronuts)
Phillipsburg, NJ
Pilot and balloon festival coordinator Fred Grotenhuis has over 43 years of flying experience. His first experience with piloting was in the military flying helicopters. From there he went on to get his fixed wing license and then his license for hot air balloons in 1980. Fred has flown helicopter, fixed wing, powered parachutes, hot air balloons and paragliders. He also enjoys flying Air HOGS (toy helicopters.) When Fred is not flying the balloon in Harmony he can be seen paragliding off the scenic mountains of Costa Rica or Brazil. Fred runs a bed and breakfast in Costa Rica in the winter, where he is known as Grampa Ninja. (To see the story behind the name visit www.paraglidecostarica.com.) Freds insistance on keeping safety first and also keeping the festival fun for the pilots is what has allowed the festival to grow from 15 balloons in 2001 to 41 (and counting) today.
14
Gene Burnstein [GEBA]
(ClipAway)
Brick, NJ
15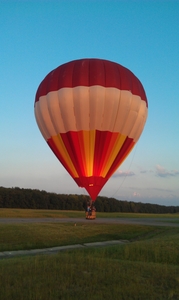 Gilbert Martin [QuickChek]
That's Amore
Ashland, VA
Company Name: Balloon Over Virginia Website: www.BalloonsOverVirginia.com
16
Hamiltons [WCFF]
This is the first year that the Hamilton family will be coming to the Hot Air Balloon Festival at the Warren County Farmers' Fair. Joe Hamilton the senior has been flying balloons since 1984. Now that he is retired traveling to festivals has been a priority. One of his newest festivals was the Warren County Farmers Fair last year. His bicyclist and he took second place in the bicycle race. The local fireman was a pleasure to meet. The farmers market was a fun experience and the folks that worked the festival did a great job. Can't wait to get back with Six Pack. Beth Hamilton left her teaching position to balloon full time. Now that hubby is retired they are traveling more and flying in many different places. Last year at the Warren County Farmers Fair she took third place in the hound and hare race (a first). So excited to have had the opportunity to fly at the festival. It looks like this is going to be an every year event for the Hamiltons if they'll have us. She will be flying "Nothing But Air" which is a slightly smaller version of her husbands. Joe Hamilton the senior has been flying balloons since 1984. He immediately decided to make this an up side to his regular job as chief probation officer. Now retired he is looking to fly in festivals across the country. His most memorable flight was last January, traveling from Sturbridge Village to Mansfield in Massachusetts, a distance of 60 miles in 3 hours and viewing the world from 12,500 ft. New Jersey is one of the favorite states he and his wife have flown in. The folks are great and the landing sites plentiful. Joe flies Six Pack, whose name can be taken many ways but truly is his passenger capability.
17
Harry Eastburn [GEBA, WCFF]
(Seize the Breeze)
Eastampton, NJ
Harry Eastburn, Jr. has been involved with the sport of ballooning since 1982. He has been a licensed balloon pilot and instructor since 1991. Harry has flown all over the Mid-Atlantic states as well as parts of Canada.
18
Jim Bulkley [GEBA]
(flyoncloudnine)
Centermoreland, PA
19
Jim Buzby [WCFF]
Native of New Jersey and resident of Hunterdon County for the last 23 years, James Buzby will be flying his Buzz Off balloon, as he has for all of the previous Warren County Fairs. Shortly after moving to Union Township from Somerville, Jim and his family started chasing balloons casually in the evenings as so many people in this area often do. Jim began chasing for his friend, Rich Wiedenhaefer, pilot of the Strawberry Balloon, who agreed to give him some lessons and the love of ballooning began. Twelve years and two balloons later, Jim and his first-rate crew can be seen on beautiful evening and early morning flights in our area. When not flying, Jim is an avid skier and a consultant for H. K. Buzby & Sons in Lebanon, NJ
20
Jim Duncan [WCFF]
Jim Duncan was intrigued by a balloon that flew over his house one morning in 1978. He began crewing in 1979, was subsequently trained, and received his private and commercial licenses in 1984. Since that time, Jim has honed his skills, which earned him the New Jersey State title four times and the Great Eastern Balloon Association championship eight times. Jim has owned and operated his hot air balloon company, Cloud 9, since 1984. He has flown in numerous racing events from New Jersey to Montana, in Albuquerque and at the National Championships in Baton Rouge. Recently, Jim has had the pleasure of working with Bert Padelt to construct balloons that are used in record attempts. He and Bert marched in the Macys Day Parade to monitor the lead balloon, and participated in the launch for the Transatlantic Challenge in 2007. In February of 2008, they traveled to Saga, Japan to launch the Celestial Eagle; however, inclement weather prevented the flight across the Pacific. Jim enjoys experiencing the sense of adventure and especially appreciates flying in new and challenging areas as he continues to enjoy the competitive spirit of ballooning and the camaraderie. He is looking forward to jumping off cliffs with Fred in the near future.
21
Jim Regan [GEBA]
(CT Ballooning)
Kensington, CT
22
Joe Doerer [WCFF]
Twenty-seven years ago Joe and his wife Janet took their first balloon ride at a festival in Bloomsbury, NJ. They were instantly hooked on the beauty and adventure of flying and began crewing for local pilots. The following year Joe began training for his private pilots license and in 1985 they purchased their Dream Chaser balloon. Joes brother Jim joined the Dream Chaser team early on as their crew chief and has progressed over the years to a Balloon Federation of America Level Four Master Crew Chief. Joe earned his commercial pilot license in 1989, allowing him to fly paying passengers and train future pilots. He has been an active member of the Great Eastern Balloon Association (www.gebaballoon.org) since the mid 1980s and is currently President of the association. The Dream Chaser crew flies mostly in the New Jersey, Pennsylvania, and New York area. They also have flown at the Albuquerque International Balloon Fiesta in 1991 and the Festival De Montgolfieres in Saint Jean Sur Richelieu Quebec for the past seventeen years. Our goal in ballooning is to enjoy safe, fun flights while carrying on the tradition of friendship and freedom that have long been the symbols of ballooning. We look forward each year to participating in the balloon / bicycle race at the Warren County Farmers Fair for the challenge it offers and for the opportunity to assist a local charity.
23
Jon Feller [WCFF]
Jon Feller is the owner and pilot of the elephant balloon. This special shape can often be seen flying over Hunterdon and Warren Counties, drawing the attention of excited onlookers everywhere along the way. Owner, Jon Feller, will fly this friendly character at the 2010 Warren County Farmers Fair again this year. Jon and his great crew love the enjoyment the elephant brings to all the kids, big and small, in every neighborhood where theyve landed. Jon has been flying hot air balloons for over 17 years but his real job is as the owner of J&B Construction of Clinton, NJ.
24
Jon Radowski [GEBA, QuickChek, WCFF]
Above & Beyond (Above & Beyond Ballooning)
Clinton, NJ; Chester Springs, PA; Elverson, PA
Jon Radowski has been involved in ballooning essentially his entire life. His interest took off at the age of two when his family attended the New Jersey Festival of Ballooning. Jon knew from a very early age he would become a balloon pilot, and made all the necessary preparations to help make his dream come true as soon as possible. He first flew in a balloon at the age of 12, began flight instruction at 14, designed and built his first hot air balloon at 17 while a junior in high school, earned his private pilots license later that year, and gained his commercial pilots license at 19 to begin ballooning as a career. From 2003 onwards, Jon served as the chief pilot of the Space Shuttle Patriot balloon, still the tallest special shape hot air balloon currently flying in the world. Towering an impressive 190 feet from nose to ground, with a wingspan of 115 feet, Patriot is 40% larger than the actual NASA Orbiter. Jon currently flies year-round, offering passenger balloon flights in Pennsylvania, New Jersey, Albuquerque, New Mexico and Phoenix, Arizona. He continues to design and build custom hot air balloons and special shapes, and is involved in hot air airship design, construction, certification and piloting. Jon has flown balloons and airships in eighteen different US states as well as Canada, Mexico and Europe. A few of his most memorable flights include a flight across Lake George, NY; a full moon midnight flight in Phoenix, AZ; flying near the Swiss Alps; flying a balloon inside another balloon; and a spectacular flight to 18,000 feet, above the Grand Canyon!
25
Jon Radowski [GEBA]
(APEX Balloons)
Albuquerque, NM and Scottsdale, AZ
26
Joyce Lange [WCFF]
Joyce is returning to the 2011 Warren County Farmers Fair, along with her daughter, Kali, who is a student pilot. Joyce has been flying balloons for more than 25 years and Kali took her first balloon ride at age six. Having attended balloon events in 9 states, Canada, France and in the Alps in Austria, the Warren County Farmers Fair is one of their favorites. Rounding out their local crew Karen Rose from Stewartsville and Walt Willard and Claire Hamanaka from Belvidere. Joyce and Kali live in Bethlehem, PA where Joyce works in the Early Childhood Education Department at Northampton Community College.
27
JR Maehr [WCFF]
JR Maehr joins us for the first time in 2010. JR is owner and operator of JD Adventures. He is from Piscataway, NJ and has been flying for 14 years. His first flight was in 1992 in Sanoma Valley, California wine country while on his honeymoon.
28
Keith Erwin [WCFF]
Keith Erwin is a local Commercial Pilot who fly's for several local balloon companies in Warren & Hunterdon County. To date he has logged over 1,000 hrs of commercial flights and loving every flight like its his first. You can see Keith in the skies all year round. The Warren County Fair is one Keith's favorite place to fly out of. One of his favorite parts of the flying at the fair is flying his frequent flyers Helga and Robin who have flown with him almost every year of the Fair. Life is good.
29
Ken Leota [GEBA]
(Sir Prize)
Howell, NJ
30
Ken Smith [GEBA]
(Fantasy Balloon Flights)
Middletown, NY
31
Kenny Shumate [WCFF]
Kenny Shumate is from Orlando, Florida. He has lived in the Orlando area for over 48 years. He has seen many changes to the area. As in the building of Walt Disney World where he works full time as a Firefighter. Kenny sez he used to hunt Deer and Quail on the property that Disney owns now. Kenny operated heavy equipment and drove dump trucks helping with the excavation of the Walt Disney Resort before going to work as a firefighter there. Kenny has been flying hot air balloon for over 28 years and has logged over 2,000 hours in the air. Kenny owns and runs The Balloonatic Promotions in Orlando. Kenny is a certified Flight Instructor and has trained over 56 new pilots. He has flown balloons of all sizes and shapes from the 2X Cloud Hopper models to the large 210,000 cubic foot 10 passenger balloons and special shapes such as The Brazilian Clown Balloon and the Amazon Birds Balloon, and presently The Beagle Maximus. Kenny, the operator of The Balloonatics Promotions in Orlando puts his emphasis on providing you a safe, fun and exciting adventure that you will remember for years to come. His years of experience and spotless safety record will assure you of just that. Kenny has flown his regular balloon and his special shaped balloons all over the United State, Canada, and New Zealand. His favorites are Freedom Weekend Aloft in Anderson, South Carolina, St-Jean Sur Richelieu, Canada, Sussex, N.B. Canada, and Gatineau, Canada. Just to name a few. He has sent his balloons as far away as Japan for the world Championships in Saga, Japan. Kenny states, he has met so many people from many different walks of life. He enjoys life to the maximum. Kenny does appreciate the gift of flight.
32
Kevin Olsen [GEBA]
(Alexandria Balloon Flights)
Milford, NJ
33
Kim Gott [WCFF]
I have been a commercial pilot since 1999 and happy to have attended all of the Warren County Fair balloon events. Gottafly is a family run business with my husband Steve being my crew chief. My daughter Lindy and son Tucker are part of the crew. My son that just turned 16, had his solo flight in fixed wing in April, one week after his birthday. My daughter Lindy will be attending Monmouth University this year and will train to become a jockey at the same time. We all enjoy the feeling of freedom in flying balloons and love sharing this feeling with the new friends we meet on each flight. Our dedicated crew, including Bruce and Deb, Sandy and Jeff, continue to share ever changing excitement of the first time passengers and those who return for another adventure. Kim has attended the Fair for the past 11 years.
34
Larry Konash [GEBA]
(Air America)
Mahwah, NJ
35
Mark Fritze [WCFF]
Tallahassee, FL. I've been licensed commercially for balloons since 1993 and was involved 5 years prior to that. I attend about 10 events annually and love to bring the magic of ballooning to people who have never been in or around balloons. I always say that I leave the ground with passengers and land with friends.
36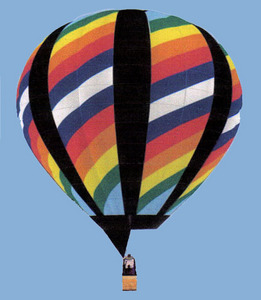 Mark MacSkimming [GEBA, QuickChek]
Movin' Magic (Movin' Magic)
Hershey, PA
Mark MacSkimming has been flying balloons since 1991. He was the program coordinator and chief pilot for the 84 Lumber balloon program. Mark has flown many contract corporate balloons and special shape balloons in balloon rallies thorughout the US and Canada. Mark also has achieved level eightenn of the Federal Aviation Administration's Wings continuing education program. He serves as an appointed FAA Safety Team representative. He also holds level five of the Balloon Federation of America's Pilot Achievement Award Program. Mark has flown several long jump flights of over 100 miles and completed a high altitude flight to 22,000 ft. He also operates a small balloon ride operation in Hershey, PA, as well as serving all aerial promotions for Harrisburg, PA radio station, which includes flying over outdoor concerts at Hershey Park. He holds an Associates degree in business in business administration from Ryder College. His real job is Vice President of sales and marketing for Trafcon Industries, Inc. of Mechanicsburg, PA. Mark has served on the Board of Directors of the Tri-County Easter Seal Society and the disaster services committee of the Harrisburg chapter of the American Red Cross. He is past President of the West Shore area Jaycees. He is a former Registered Emergency Medical technician and is a member of the National Association of Search and Rescue. Mark is a life member of the Balloon Federation of America, Harley Owners Group and the Disney Mickey Mouse Club.
37
Marty Pfenninger [GEBA]
(Balloons Aloft)
Pittstown, NJ
38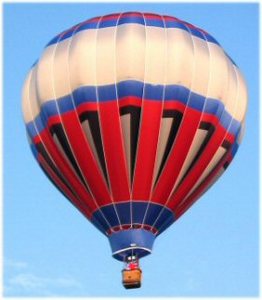 Matthew Lidinsky [QuickChek]
Windswept
Baldwin, MD
39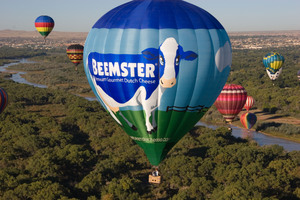 Michael Blum [QuickChek]
Beemster Betty Bovine
Wheeling, WV
40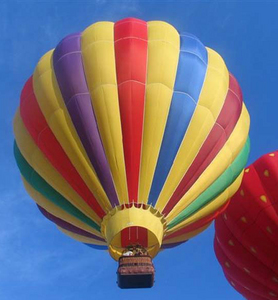 Mike Zemlachenko [GEBA, QuickChek]
Sun Burst (Hunterdon Ballooning)
Flemington, NJ
Mike's career in aviation began in 1973 when he started taking airplane flying lessons at Solberg Airport in Readington, New Jersey. In 1983 Mike started taking flight lessons in hot air balloons and attained his Private and Commercial rating. Currently Mike is a commercial airline pilot based in New York with a major US carrier. Mike and his wife Oksana also own and operate Hunterdon Ballooning, Inc. (www.HunterdonBallooning.com) in Flemington, New Jersey. They have been providing commercial balloon rides since 1984. The biggest thrill is to help plan each flight and exceed the passenger's expectations. It's always exciting to see first-time, as well as returning "seasoned" flyers, enjoy the beauty, excitement and serenity of a hot air balloon flight.
41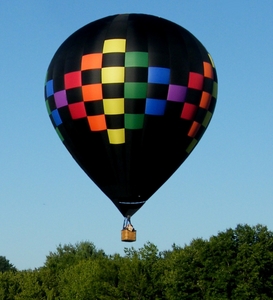 Nancy Beck [QuickChek]
Heads Up
Haskell, NJ
42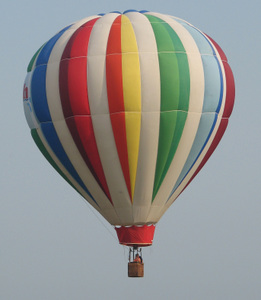 Nicholas Mazzocchi [QuickChek]
Mid Life Crisis
Lebanon, NJ
43
Paul Ward [GEBA]
(Britannia Ballooning Adventures)
Mahopac, NY
44
Ray Chase and Dawn Chase [GEBA, WCFF]
(Balloon Chase Adventures)
Pocono Mts, PA
Father and daughter team. Ray took his first balloon ride in 1983 with Mike Fairbanks over his home town of Moscow, PA. Ray started crewing for a local pilot and in 1986 Ray became a private pilot. The same day he purchased his first balloon, Pinwheel. He became a commercial pilot in 2003 so he could teach his children to be pilots. Ray enjoys ballooning because it is a family activity. Ray's wife, Maureen is crew chief. His daughter Dawn is a private pilot while son Ray Jr. and wife Allison and grandson Henry help crew. Ray's other son Brian is learning to be a pilot. Bob Sparks dubbed the Chase's as the "Original Chase Crew". Ray enjoys traveling with his family around the United States and Canada to participate in balloon events. Whenever you are with the Chase's you will always have an adventure. With a name like Dawn Chase she must have been destined to be a balloon pilot. Dawn got into ballooning at the age 7 when her dad took a balloon ride over her home town of Moscow, PA. Dawn grew upon the launch field and never had to be asked twice to get in a basket. In 2007 she finally took the time to obtain her private pilot's license. She is working on her commercial license and hopes to have it soon. Dawn has been pleased to have wonderful family and friends that invite her to come all over the United State and Canada to participate in balloon events.
45
Rich Weidenhaefer [WCFF]
Rich Weidenhaefer and his wife Cat own the "Giant Strawberry" and their chase crew Billy and Cynthia Salus are from Clinton, NJ. Rich started in ballooning as a chase for Jon Feller in the mid 90's and bought his own balloon, got his license in 1998 and has been ballooning ever since. On the outside Rich is a captain for United Airlines based out of New York. He is up to 500 hours flying the balloon and 26,000 hours of fixed wing. He is also a retired navy reserve captain who flew A6 intruders on active duty and C-9 transports in the reserves out of NAS Willow Grove PA. "This is my favorite balloon festival!" Rich has attended the Fair for the past 11 years.
46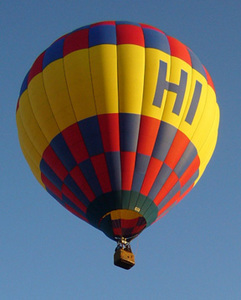 Richard "RJ" Letrent [GEBA, QuickChek, WCFF]
HI (Hi Ballooning)
Hamilton, NJ
Rich (RJ) Letrent, hails from Hamilton, New Jersey. He flies regularly in the Garden State, but logbook entries also include a number of festivals across the Northeast and even a flight in the Slovak Republic. I got hooked on ballooning back in 2005 when my neighbor, Jeff Lovelace, talked me into coming out to crew. I had no idea what to expect, but it turned out to be love at first sight. Before long, I found myself signing up for every flight. One thing lead to another and I got my pilot certificate in August, 2007. Along the way, Ive encountered some of the most wonderful people you will ever meet and flown many a balloon. RJ and Jeff bought the HI Balloon from Don Henk in the fall of 2007 and are thrilled to, once again, bring it back to Warren County. There is no question that this is our favorite event. We have flown many places, but nothing compares to the unique mix of the fair, magnificent scenery, and great people.
47
Richard Scott Kelly [WCFF]
Experiences with Lighter-than-Air Started Ballooning in 1982. Received Private and Commercial Pilot Certificates for Hot Air and Gas Balloons 1982 and 1983. I have trained students in both Hot Air Balloons and Gas Balloons. I have flown nine different Manufacturers balloons. Flew the USA Bicentennial Hot Air Balloon. Have been consultant and pilot for 2 PBS Films: short film relating to 1860s Biedermier Period in Europe and Africans in America Series. Have piloted a balloon for one Commercial Film: A Time Being. Participated in the 1988 Winter Olympics Games Festival in Calgary, Canada. Consultant for AWMC Sports. Participated in the French Bicentennial Festival in Alsace-Lorraine, France 1989. Flew a gas balloon for the 350th Anniversary of the Founding of Quebec and the 125th Founding of Canada in St. Jean-Sur-Richelieu, Canada. I was a FAA Designated Pilot Examiner from 1992-2010, to certify and issue Student Pilot, Private Pilot and Commercial Pilot Certificates: Lighter than Air Balloons both gas and hot air. Our crew and I have always enjoyed participating at the Warren County Farmers Fair and Hot Air Balloon Festival; the spectators, landowners and festival organizers have been great in welcoming us to this event.
48
Rick Bryant [GEBA, WCFF]
(Sights Unseen)
Easton, PA
Flying attack jets aboard aircraft carriers or flying 200 passengers to Europe is nothing compared to flying in the Warren County Fair balloon festival. I know, because I've done all of them. I've flown for 46 years, and my 7 years flying hot air balloons is the most enjoyable. Rick Bryant
49
Rick Thorne [GEBA]
(Balloons Over Corning)
Painted Post, NY
50
Robin Loesser [GEBA]
(Dancing on Air)
Flemington, NJ
51
Rodger Kell [GEBA, QuickChek, WCFF]
Have Balloon Will Travel (Have Balloon Will Travel)
Phillipsburg, NJ
Rodger and his wife Sue have a commercial ride business in Harmony Township. His favorite event is the Warren Co. Fair. He especially enjoys the bicycle race because of the unique challenges it presents and the team work with the bicyclist. Last year was especially fun because he partnered with the bicyclist Kevin Kocher. Kevin and his wife had flown with Rodger about 20 years ago and the race turned out to be a great reunion.
52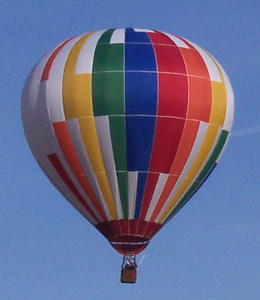 Sally Mazzocchi [QuickChek, WCFF]
Quarter Life Crisis
Annandale, NJ
Sally Mazzocchi is a part of The Flying Mazzocchis which includes her father, Nick, also a balloon pilot, and her mother, Sherrie. She took her first balloon ride when she was 10 years old with a friend of her fathers. Just four years later, her dad decided to get back into the sport after a 20 year hiatus and bought his second balloon. Sally quickly fell in love with ballooning, hopping into the basket whenever she was given the opportunity. In 2004 she received her private pilot's license and in 2007, her commercial license. Following a brief stint living and flying balloons in Maryland, Sally has now returned home and flies in Hunterdon County, NJ. Sally has flown throughout the United States and in Canada as well as China. Sally is a member of the Balloon Federation of America and serves as a board member on the Great Eastern Balloon Association.
53
Scott & Tony Saxton [GEBA]
(Endless Mountains Hot Air Balloons)
Dalton, PA
54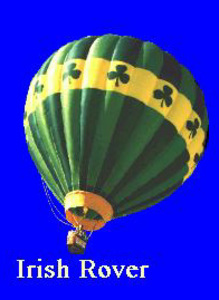 Ted O'Hara [QuickChek]
Irish Rover
Staurt, FL
55
Tim Schonman and Tom Martin [WCFF]
Tim and Tom started flying in the early 90s. Tom got hooked when he took his first flight. He started chasing for the pilot whenever he could. Shortly he bought his own balloon and asked Tim to chase for him. Not long after that both of them became licensed commercial pilots and now they take turns flying their beautiful balloon. Chase duties are now a family affair. Tims wife, Armine and two kids, Bill and Jeannie are everyones dream chase crew. Bill now has his drivers license which makes him even more valuable member of the chase crew, although we heard rumors he may be defecting to other pilots offering sodas with caffeine or cash. A side note, Tim and Tom are a few of the balloon pilots Fred has turned on to paragliding. Tom spends the winters in Costa Rica with Fred and is a regular at Grampa Ninja's B&B. Tim gets down there whenever Armine can be convinced he should go - on average, once a year.
56
Tim Strand [WCFF]
Tim has been flying since 1979, and is often among the pilots you see flying balloons in the evening sky over Hunterdon and Warren counties. Tim and his wife Clare, also a balloon pilot, live in Holland Township, NJ. I look forward to the fair, and Im excited to be participating in the Balloon and Bicycle Race event again this year notes Tim. If you find yourself wanting to learn more about this exciting sport, feel free to ask Tim or most any of the other pilots or chase crew members during the fair. The best way to get involved in the sport of ballooning is to volunteer to be one of the chase crew members. Lots of balloon pilots got their start that way! Tim has attended the Fair since the first year in 2001.
57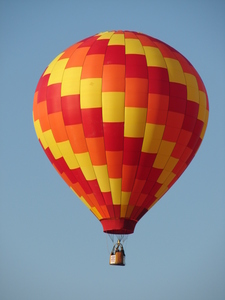 Todd Monahan [QuickChek]
Sunburst
Glens Falls, NY
58
Tom Baldwin [GEBA, WCFF]
(Inflight Balloon Adventures)
Asbury, NJ
When Rodger Kell, a college friend, said he was taking hot air balloon flying lessons I thought he was wacked out. This was in the early 70's and I already had my single engine airplane rating. I started helping (crewing) and went on to get my balloon rating. I was fortunate to fly for Malcom Forbes, Bennihana and others gaining experience. In 1987, I purchased a balloon and started In Flight Balloon Adventures LLC. I currently fly The Unity Bank Balloon for Unity Bank Corp., Clinton, NJ. Tom
59
Tom Robbins [WCFF]
I was born in Philadelphia, PA and started my fascination with flight when I was 12, building model hot air balloons that I flew over my neighborhood. I received my first fixed wing airplane instruction at 16, found my passion for ballooning in the early eighties and have been flying hot air balloons for over 25 years! I have provided thousands of delighted people their first experience of balloon flight. I have launched my balloon from the steps of the Philadelphia Art Museum flying thru the City of Philadelphia. I have flown up the Hudson past the Statue of Liberty and landing in New Yorks Central Park. On Halloween eve 2009 I flew my first after dark flight. Flying over the town of Flemington in a giant pumpkin balloon that would light up every time I used the burner, the kids and spectators were cheering us on! This past year in August 2009, I attended the first ever Gu Yang, China balloon festival. Spending two weeks flying hot air balloons in China I met a lot of wonderful people and have many fond memories and photos. What an incredible experience! I am an FAA certified inspector, authorized to perform safety inspections and maintenance procedures on hot air balloons. I love my job! Come and experience it with me. Tom The Balloon Man
60
Tony DiCocco [WCFF]
Tony DiCocco writes: In the ensuing 28 years wow, I must be old! I have flown countless flights; trained several other pilots; met my wife who was a student pilot in 1989 when we met, and developed deep friendships with other pilots and crew. My current student is a 15 year old boy who has been chasing, flying and crewing with us since he was 6 years old. His 12 year old sister will probably be my next student. And although a lot of my flying is commercial passenger flights I most enjoy the just for kicks flights on those beautiful days that you just cant not fly.
61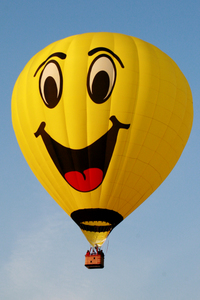 Tony Sica [QuickChek]
Smile High
Derry, NH
62
Tracy Leaver [WCFF]
Tracy Leaver, involved with ballooning since the early 1980s has been a commercial hot air balloon pilot since 1998. She enjoys sharing her love of the sport and the special experiences it offers. Each flight is unique which gives every passenger their own special memories. Tracy has participated in this event from the beginning and enjoys returning each year. Tracy is the Executive Director of Woodlands Wildlife Refuge, Inc. in Hunterdon County and in her spare time she escapes and flies the Pumpkin and Jurassic Journey balloons. She enjoys her ballooning adventures with her Chase Crew including her husband Jeff and friends Susan, Karen and Fernando, Mike and Debbie. My crew, known as Team Pumpkin is the best! They make every flight extra special and so much fun! If you havent flown make it happen!
63
Ulrich Krahenbuhl [WCFF]
Ulrich Krahenbuhl is from Bellemead, NJ. He holds the following licences in aviation: Private Pilot Fixed Wing since 1976 and has over 200 PIC (Pilot In Command) Hours, Private Pilot LTA (lighter than Air), Hot-Air since 1996, Commercial Pilot LTA since 1998 and has over 950 PIC Hours. He is also a BFA (Balloon Federation of America) Member and a GEBA (Great Eastern Balloon Association) Board Member. His Crew-Chief is his wife Shirley Krahenbuhl.
64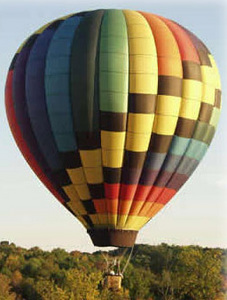 Victoria Ingrassia [QuickChek]
Wandering Winds
Cuddebackville, NY
65
Vince Galet [GEBA]
(Sky Riders Balloon Team)
Trappe, PA